Civil engineering and underwater welding
Hulltec has carried out work for all major civil engineering contracting and consulting companies in Northern Ireland.
The two Directors of Hulltec Ltd have over 50 years esperience between them in the field of commercial diving both at home and overseas. This experience allows the company to bring new and cost effective ideas, techniques and equipment to the subsea civil engineering industry throughout Ireland.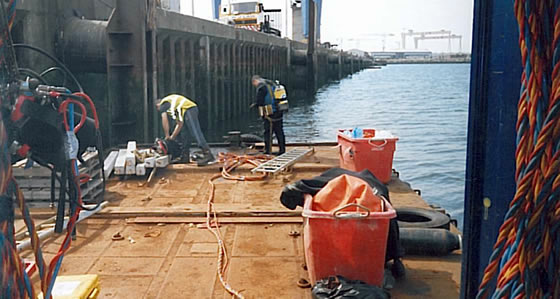 Diver getting ready to fit harbour nodes (Belfast Harbour)
Hulltec is willing to undertake measurable contracts on a fixed rate basis therefore removing the risk for that part of the contract from the main contractor.
Recent contracts have included:
Refurbishment of Kilkeel Fishing Harbour phases 1 and 2
Laying scour protection for Victoria Terminal 4, Belfast Harbour
Surveys and leak repairs on the tunnels of the new Belfast sewage system
Retro fitting harbour anodes in Belfast Harbour (all three phases, approx 5000 anodes)
Sheet pile repairs in Belfast Harbour (approx 800mt of pile wall repaired in two phases)
Retro fitting harbour anodes in Larne Harbour phases 2-5 (Approx 1400)
Sheet pile repairs in Larne Harbour (100mt)
Retro fitting harbour anodes in Cairnryan Harbour, Scotland
All of the above were carried out on a fixed rate except Kilkeel Fish Harbour which was partly carried out on a fixed rate.
Hulltec Ltd supply a full service which includes:
Shutting
Concreting pumping/pouring
Burning
Airlifting/Diver operated dredging
Welding
Video surveys
NDT surveys
Only qualified and experienced divers work on contracts in a Hulltec Dive Team. These divers will have worked on all types of civil engineering sites and will have experience working with cranes, barges and other plant associated with civil engineering sites.
The experience of the management, supervisors and divers ensure our clients a safe and efficient diving operation.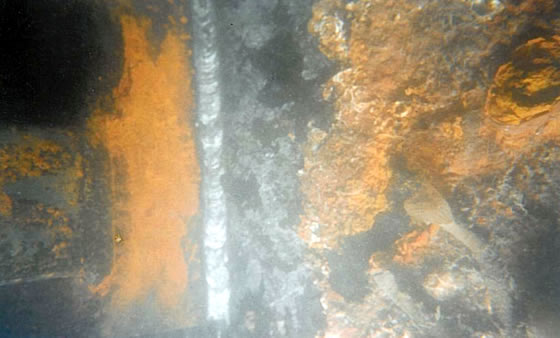 Underwater weld